All-metal, low-wing trainer aircraft. The fuselage of semi-monocoque construction with a rectangular oval vaulted. Cantilever with trapezoidal contour and lift of 5 degrees, one piece / one girder design. Inside the wing integral fuel tanks with capacity of 640 liters and chamber wheel main landing gear. Furthermore, on the lower wing surface 4 is (TC-1) or 6 (TC) arms fixing nodes.
Darts slotted pivoted by means of follower and an electrically driven double slotted fowler flaps of varying deflection.
Power unit was a czech turboprop Walter M-601E power of 490 kW with 5-blades Avia V510 propeller / 7 with a diameter of 2.3 m three-wheel chassis (all wheels of the same diameter) hydraulically retractable. The front wheel on the fork main wheels wishbone. Chassis fitted with oil-gas shock absorbers and hydraulic brakes.
Cabin equipped with ejected seats Martin-Baker Mk PL11B. Seats are arranged one behind the other (tandem) with a slight increase of the rear seat in order to improve forward visibility instructor.
Historia
Work on the new trainer propeller driven airplane, which was to replace PZL 110 "Hummingbird", takes place in construction office at Okecie PZL. Team led by Andrzej Frydrychewicz. Draft machines presented in 1981 Plane designated PZL-130 "Columbine" and named.
According to the first order, delivery of 48 units of PZL-130TB started in 1994 r. First unit equipped in the Eaglets were 60 Air Regiment stationed School in Radom.
In 2004 began testing a new version of the PZL-130TC-II aircraft serial number 047 with 2 Aviation Training Center, which amended the wings on the larger (greater span and area), the geometry of the rudder and engine changed on Pratt & Whitney of Canada PT6-25C with increased to 551 kW of power, which is constant regardless of altitude and air temperature, and longer resours. Also 4-blades propeller were changed on 4-blades Hartzell D4N. Changed the position of instructor and improved avionics. Initially planned to modernize 10 of 37 operated Columbines, but for various reasons this program was delayed and finally decided to rebuild the new standard 28 machines.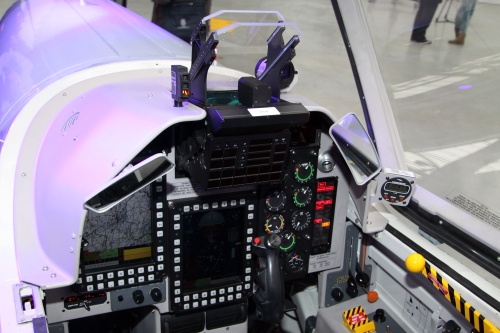 Also presented a prototype of PZL-130TC-III with an even better avionic, among others, withthe HUDHead-Up Display – translucent display, presenting the information in a special glass without blocking the view[/ dt_tooltip].
March 7, 2014 was presented the latest version of the PZL-130 Columbine MPT stands for Multipurpose Trainer [/ dt_tooltip]. Other its designation is the TC-II GC glass cockpit [/ dt_tooltip]
General characteristics
Crew: 2
Length: 9.19 m (30 ft 6 in)
Wingspan: 9 m (32 ft 10 in)
Height: 3.53 m (11 ft 7 in)
Wing area: 13 m2 (156.7 sq ft)
Empty weight: 1'825 kg (4,023 lb)
Gross weight: 2'700 kg (5,291 lb)
Max takeoff weight: 2'700 kg (6,504 lb)
Powerplant (TC-II): 1 × Pratt & Whitney Canada PT6A-25C turboprop, 560 kW (750 shp)
Fuel capacity: 560 l
Propeler: 5-blade, constant rotation Avia V510/7 2,3 m diameter
Performance
Maximum speed: 297 kts (550 km/h)
Cruising speed: 265 kts (490 km/h)
Stall speed: 74 kts (137 km/h)
Range: 1'188 nm (2'200 km)
Service ceiling: 32,808 ft (10'000 m)
Climb rate: 2,830 ft/min (14,4 m/s)