The Lockheed C-130 Hercules is a four-engine turboprop military transport aircraft designed and built originally by Lockheed (now Lockheed Martin).
Capable of using unprepared runways for takeoffs and landings, the C-130 was originally designed as a troop, medical evacuation, and cargo transport aircraft. The versatile airframe has found uses in a variety of other roles, including as a gunship (AC-130), for airborne assault, search and rescue, scientific research support, weather reconnaissance, aerial refueling, maritime patrol, and aerial firefighting. It is now the main tactical airlifter for many military forces worldwide.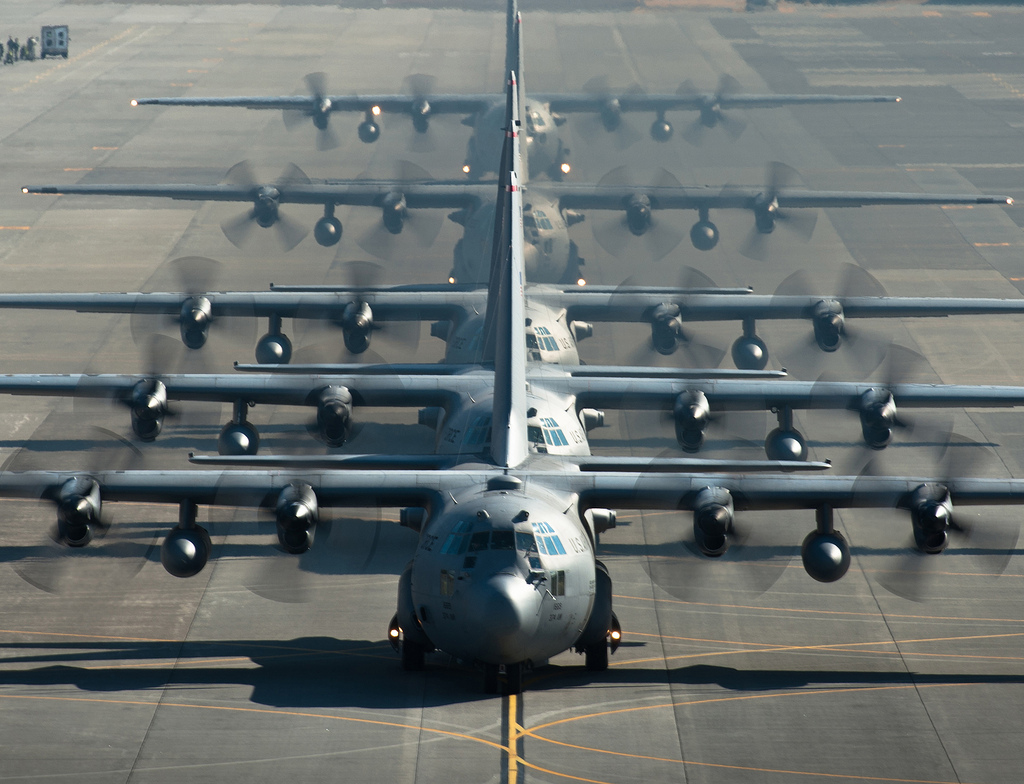 The C-130 entered service with U.S. in the 1950s. During its years of service, the Hercules family has participated in numerous military, civilian and humanitarian aid operations. The family has the longest continuous production run of any military aircraft in history. In 2007, the C-130 became the fifth aircraft—after the English Electric Canberra, Boeing B-52 Stratofortress, Tupolev Tu-95, and Boeing KC-135 Stratotanker, all designs with various forms of aviation gas turbine powerplants—to mark 50 years of continuous use with its original primary customer, in this case, the United States Air Force. The C-130 is one of the only military aircraft to remain in continuous production for over 50 years with its original customer, as the updated C-130J Super Hercules.
Over 40 models and variants of the Hercules serve with more than 60 nations. Also refueling one. The KC-130 tankers, originally C-130Fs procured for the US Marine Corps (USMC) in 1958 (under the designation GV-1) are equipped with a removable 3,600 US gal (13,626 l) stainless steel fuel tank carried inside the cargo compartment. The two wing-mounted hose and drogue aerial refueling pods each transfer up to 300 US gal per minute (19 l per second) to two aircraft simultaneously, allowing for rapid cycle times of multiple-receiver aircraft formations, (a typical tanker formation of four aircraft in less than 30 minutes). The US Navy's C-130G has increased structural strength allowing higher gross weight operation.
Since 2009 C-130E Hercules aircraft is also used in Polish Airforces. As part of a non-refundable loan for military purposes, negotiated in 2004 by Polish and American governments, these machines were delivered to Polish in stages. The first aircraft landed at the airport in Powidz, March 24, 2009, and the last (sixth) August 22, 2012. The U.S. government, under the Fund FMF (Foreign Military Financing) have been committed to modernizing them in Lockheed for $ 98 million. They will serve in the Polish Air Force for about 20 years, although two of them "remember" yet the Vietnam War.
Hercules serve in created in 2007 3rd Wing of Air Transportation (3 SLTr) stationed in Powidz. Polish Herculeses are prepared, inter alia, to transport people, equipment, medical evacuation, rescue, humanitarian aid in the country and abroad, as well as assault troops and cargo.
Specification of C-130 Hercules

General characteristics
Crew: 5 (two pilots, navigator, flight engineer and loadmaster)
Capacity:

C-130E/H/J cargo hold: length, 40 feet (12.31 meters); width, 119 inches (3.12 meters); height, 9 feet (2.74 meters). Rear ramp: length, 123 inches (3.12 meters); width, 119 inches (3.02 meters)
C-130J-30 cargo hold: length, 55 feet (16.9 meters); width, 119 inches (3.12 meters); height, 9 feet (2.74 meters). Rear ramp: length, 123 inches (3.12 meters); width, 119 inches (3.02 meters)
92 passengers or
64 airborne troops or
74 litter patients with 5 medical crew or
6 pallets or
2–3 Humvees or
2 M113 armored personnel carriers

Payload: 45,000 lb (20,400 kg)
Length: 97 ft 9 in (29.8 m)
Wingspan: 132 ft 7 in (40.4 m)
Height: 38 ft 3 in (11.6 m)
Wing area: 1,745 ft² (162.1 m²)
Empty weight: 75,800 lb (34,400 kg)
Useful load: 72,000 lb (33,000 kg)
Max. takeoff weight: 155,000 lb (70,300 kg)
Powerplant: 4 × Allison T56-A-15 turboprops, 4,590 shp (3,430 kW) each
Propellers: 4 propellers

Propeller diameter: 13.5 ft (4.1 m)
Performance
Maximum speed: 320 knots (366 mph, 592 km/h) at 20,000 ft (6,060 m)
Cruise speed: 292 kts (336 mph, 540 km/h)
Range: 2,050 nmi (2,360 mi, 3,800 km)
Service ceiling: 33,000 ft (10,060 m) empty; 23,000 ft (7,077 m) with 42,000 pounds (19,090 kilograms)
Rate of climb: 1,830 ft/min (9.3 m/s)
Takeoff distance: 3,586 ft (1,093 m) at 155,000 lb (70,300 kg) max gross weight; 1,400 ft (427 m) at 80,000 lb (36,300 kg) gross weight